"I might have had a double," Zampa said, reflecting on the celebrations after toppling New Zealand in the Twenty20 World Cup final three weeks ago.
It's certainly been a year to remember. On a personal front, there was his mid-year wedding to long-time girlfriend Hattie Palmer, the pair twice having to postpone the big day because of the coronavirus pandemic. On a team front, there was Australia's breakthrough Twenty20 World Cup victory. Not to mention Zampa's pivotal role in that.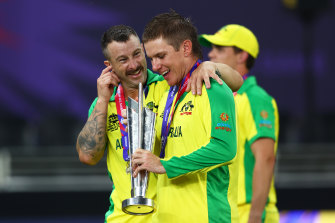 The combative leg-spinner finished with 13 wickets – the second most of the tournament – and joined teammates David Warner and Josh Hazlewood in the International Cricket Council's team of the tournament.
"I am still coming down from it to be honest with you. It was pretty bloody exciting. As everyone has kind of mentioned, no one gave us a chance to win the World Cup. It was a bloody good feeling," Zampa said.
Loading
"I have reflected. It was nice to sit back and watch the highlights a couple of times and think about how much fun it was. That whole day was amazing."
That had been an elusive title for the Australians, a similar situation to what the Stars find themselves in, in the Big Bash League.
The glamour franchise has yet to taste the ultimate success in 10 seasons, having three times been beaten in the final, but Zampa hopes he and fellow World Cup-winning Stars Glenn Maxwell and great mate Marcus Stoinis can help to finally right that wrong.
So, after their heroics in the United Arab Emirates, is it fair to say the trio now has "championship DNA"?
Loading
"Hopefully, but I haven't looked that far ahead to be honest," Zampa said.
"We had a pretty poor season last season, and it's always about playing the right cricket at the right time. We know we have the winning ability … I wouldn't say we have championship DNA or anything like that. But I think as long as we are building into it nicely and we are playing good cricket at the right time, anything can happen."
Zampa, a vegan, has long been one of the game's deeper thinkers. He maintains the BBL season is too long and has too many matches. Ideally, he says each of the eight teams plays each other only once, as opposed to the current full home-and-away campaign.
He said the innovations introduced last season – the power surge, the Bash boost and X factor – had been good and welcomed the use of three overseas players in the starting XI. But depth of talent, he said, remains an issue when compared to the Indian Premier League.
Zampa said he plans to nominate for the impending mega IPL draft and would like to link with Chennai Superkings coach Stephen Fleming. A superb World Cup is likely to add to his value.
Meanwhile, there is a BBL title to chase – and time to ponder if his "cafe" should reopen.
Melbourne Stars squad: Glenn Maxwell (c), Marcus Stoinis, Adam Zampa, Joe Burns, Nathan Coulter-Nile, Hilton Cartwright, Nick Larkin, Liam Hatcher, Tom O'Connell, Clint Hinchliffe, Joe Clarke (UK), Beau Webster, Sam Elliott, Peter Nevill, Qais Ahmed (Afg), Sam Rainbird, Brody Couch, Syed Faridoun (Pak).