Furthermore his stamina, undimmed by smoking and junk food, allowed him to bowl all day. He proved adept at winning matches with irresistible performances in the fourth innings.
The most important factors in Warne's success were his mental strength and his unflagging competitive spirit. These qualities were the positive side of his brashness and vulgarity off the pitch. Aware that, for leg-spinners in particular, confidence is the key to success, he succeeded brilliantly in keeping negative thoughts at bay.
This was a deliberate set of mind, developed notwithstanding a startlingly unsuccessful start in Test cricket, which would surely have shattered a weaker character. His optimism proved as indestructible as his energy.
Even when a batsman mastered him, Warne would never concede the fact. He would speak of having developed a new plan, claiming to think six balls ahead in the manner of a chess player.
In his battle for mental ascendancy he would elaborate on unplayable deliveries he had just invented. The reality, though, was that he depended almost entirely on the leg-break (albeit with many different degrees of spin) and the "flipper", which, by imparting backspin, caused the ball to skid through low after bouncing.
Warne never learnt to bowl a reliably accurate or well-disguised googly, and used this delivery sparingly. He had more success with the "slider", which would hurry on to the batsman without spin. Less admirably, Warne was a serial sledger. Occasionally he seemed manic in his intensity, as in 1994 when he dismissed the South African batsman Andrew Hudson and sent him packing with a volley of obscenities.
At the same time, however, he was one of the few Australian players of his era prepared to fraternise with the opposition off the pitch. And increasingly, as his career progressed, he would acknowledge good shots against his bowling. His character, in short, was a curious mix of calculation and friendliness, boorishness and generosity, intelligence and stupidity.
Again and again involved in sexual scandal, he would talk convincingly of his delight in his children and marriage. Determined to maintain his competitive edge, he would nevertheless give tips to other leg-spinners. But then he had been brought up to be a polite boy. And if he wanted to succeed at all costs, he also wanted to be liked.
Shane Keith Warne was born on September 13 1969 in the suburb of Ferntree Gully on the east side of Melbourne. His father, Keith, was an insurance consultant. His mother Brigitte, whose German family had emigrated to Australia, was described as "brash, lively and full of fun".
Yet she also had a conventional side, which ensured that Shane and his brother Jason were made aware of the importance of good manners. Later, those who expected a gross Australian were often surprised by his politeness.
The Warnes moved several times in Shane's childhood, before settling at Black Rock in Port Phillip Bay, on the south-west side of Melbourne.
Shane's parents encouraged their boys to try swimming, tennis, cricket. But it was Australian Rules football that became Shane's obsession. He won a sports scholarship to Mentone Grammar School, but showed no interest in academic work, and at 30 said he had never finished a book. Teachers remembered him as a lovable rogue.
On leaving school Warne signed a trial contract to join St Kilda football team. But 18 months later he was disappointed not to be offered a full professional contract.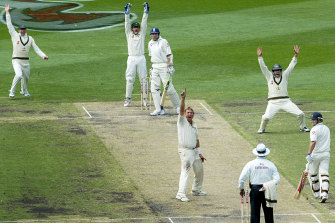 Up to 18 he had shown only moderate interest in cricket, though he had been recommended to St Kilda's CC. He was stocky and overweight, but it became evident that, notwithstanding his stubby little hands, he possessed an extraordinary capacity to spin the ball.
This may have been partly due to an accident he had suffered aged eight, when another boy had jumped on him and broken both his legs. For a year he had to push himself around in a cart, developing extraordinary strength in his upper body.
In 1989 Warne went to England, where he played for Bristol Imperials and spent so much time in pubs that he gained 20 kilograms by the time of his return. As a warning he was demoted to the St Kilda's third XI. But by the end of 1989 he was in better shape physically, and playing regularly for the first XI. News spread that St Kilda's possessed a leg-break bowler of exceptional potential.
He was given a place in Australia's national cricket academy in Adelaide. But among fellow students his exhibitionist ways resulted in the nicknames "Showbags" and "Hollywood". He showed no enthusiasm for attempts to impose discipline or fitness, openly despised some of his instructors and got into trouble for his crude pranks.
When, after nine months, he declared that he was returning to Victoria, there were some who were far from sorry to see him go.
Warne's first-class debut, for Victoria against Western Australia in February 1991, brought him only one wicket at a cost of 101 runs. Nor did his ear-stud, long bleached hair, and excess weight impress the Victorian selectors, who dropped him.
In the English summer he played for Accrington in the Lancashire League. But though he took 73 wickets there was no rush to re-engage him for the next summer.
In December 1991, he was chosen for an Australian XI against the West Indies. He did not waste the opportunity, returning match figures of seven for 56. And so, after just seven first-class games, he was included in Australia's side to play India at Sydney in January 1992. For once he did not rise to the occasion, taking one for 150 from 45 overs. And after following up in the next Test with figures of nought for 18 and nought for 60, he was dropped.
At this even Warne expressed doubts about playing "in such elevated company". Returning to Melbourne, he discovered that he could no longer command a place in the Victoria team.
Again he worked to reduce his weight, from 95 kilograms to 82; the Australian selectors chose him for the short tour of Sri Lanka in August 1992. But in the first Test, at Colombo, Warne returned an analysis of nought for 107 in Sri Lanka's first innings. His Test bowling average was now 335, his morale fractured.
In Sri Lanka's second innings he was taken off after one over, which cost 11 runs. The batting side seemed well placed when with four wickets standing they required only 36 for victory.
At this point Allan Border, the Australian captain, confounded expectation by putting on Warne. The leg-spinner restored his nerves with a maiden; then, turning the ball fiercely out of the rough, claimed a victim caught at slip. "Well done, mate," his team-mate Dean Jones told him, "your average is now 230."
Actually it was 173, and soon 86 as Warne snapped up the last two wickets to secure victory by 16 runs. "I felt I had finally contributed," he reflected. "But I didn't feel like I belonged." In fact he did not play in the second Test, and failed to take a wicket in the third.
The real turning point in Warne's career came when, recalled at the end of 1992 for the Test at Melbourne, he ripped out the West Indies in their second innings, taking seven for 52.
He felt he had established himself in Test cricket, and his confidence became unassailable. He consolidated his new status in 1993 by taking 17 wickets in a three-match series in New Zealand. But it was in England that summer that the legend was born. The extraordinary dismissal of Mike Gatting proved the first of 34 victims he took in that Ashes campaign, when he was named Man of the Series.
He went on to be Australia's leading wicket-taker in six successive series. His accuracy was remarkable, and rewarded by a high percentage of maidens. "The best I ever bowled," he considered at the end of his career, "was between 1993 and 1998, just spinning the leg break as far as I could."
Sponsors, among them Sony and Nike, flocked to gain his endorsement. By February 1998 he had taken 303 Test wickets, including 84 against England.
Gradually, though, the strain of his marathon spells began to tell. From 1995 he experienced increasing problems with his shoulder and third finger, with which he imparted his fierce spin. In 1996 he had surgery on the finger; on his return to the game it seemed stiff. "Worryingly," he later wrote, "bowling just didn't seem the same." Against West Indies in November 1996 his control was good as ever, but he seemed unable to conjure his former fierce spin. Confidence was somewhat restored in the next Test, and in 1997-98 his 20 wickets against South Africa made him Man of the Series.
His shoulder, however, remained a problem, and he should not have travelled to India in 1998. The Indian batsmen, led by Sachin Tendulkar, hit him all over the ground, and back in Australia he underwent a shoulder operation.
In the West Indies in 1998-99 Warne failed dismally, and found himself dropped for the last Test in Antigua. Since returning from his shoulder injury he had captured only four wickets in four Tests, at 92.25 apiece. If he had recovered physically, mentally he appeared shattered. It seemed that a great career was finished.
To make matters worse, in December 1998, it became known that, four years before, Warne had accepted US $5,000 from an Indian bookmaker in Sri Lanka. His insistence that he had given nothing more than information about the pitch and weather hardly seemed adequate to repair the damage.
The Australian Board let Warne off with a fine of $5,000. His countrymen, however, were less forgiving, and while he was struggling to recapture confidence and form he was pilloried in the Australian press as a crook or a fool. Suddenly sponsors were less eager to employ him.
At Sydney in January 1999, for the fifth Test against England, he bowled well enough, but it must have worried him that Stuart MacGill, who had taken his place in the Australian side in his absence, performed far better.
In the 1999 World Cup in England his bowling was being mauled, and morale was not improved by headlines about an affair with a porn star. Halfway through the tournament he spoke about retirement.
Then, in the semi-final, he pulled off one of the greatest performances of his career. After dismissing Australia for 213, South Africa seemed to be on the way to victory. Close to desperation, Steve Waugh called up Warne.
His second ball, a replica of the delivery that had dismissed Mike Gatting six years before, bowled the dangerous Herschelle Gibbs. Warne knew that he could rip his leg-break again in the old style. He bowled brilliantly, adding Kirsten, Cronje and Kallis to his list of victims, and conceding only 29 runs in his 10 overs.
The match ended in a thrilling tie. Australia went through to the final against Pakistan at Lord's, and Warne was voted Man of the Match as Australia romped home. In March 2000 he overhauled Dennis Lillee's record of 355 wickets for Australia, but lost his position as vice-captain after a scandal involving lewd telephone conversations with a nurse.
In 2001 he claimed 31 victims in the Ashes series in England, including a haul of 11 wickets at the Oval. If he spun the ball less, and sent down more loose deliveries, he now combined subtle degrees of turn with the instinct of a master strategist.
Still, though, the Indians proved his nemesis, whether in Australia in 1999-2000, or at home in 2000-01, when his bowling average again exceeded 50. By contrast, in two three-match series against South Africa in 2001-02, he helped himself to 37 wickets. And Pakistan had no answer to his wiles in October 2002.
Soon afterwards Warne helped Australia to retain the Ashes in just three Tests and nine playing days. A dislocated shoulder, however, put him out of the rest of the series.
Then, in February 2003, on the eve of the World Cup, Warne was informed that he had failed a drugs test. The Australian Cricket Board deemed his defence "vague, inconsistent and unsatisfactory", yet restricted its punishment to a one-year ban.
Many imagined that his career was at an end, but Warne was determined to carry on. He even trained. His comeback was marked in style. In 2004 he was nominated Man of the Series after taking 26 wickets in three Tests against Sri Lanka. He then returned to Hampshire as captain, inspiring them to promotion to the First Division.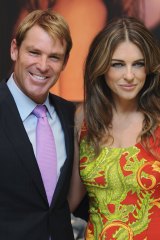 At the end of the year, in India, Australia won the series and Warne surpassed Courtney Walsh's record total of 519 Test wickets. Subsequent performances took him to a total of 583.
In 2005 his wife left him. Yet Warne was able to set domestic difficulties aside in the five Ashes Tests, and take 40 wickets out of the 93 that fell to Australian bowlers. England won that series, but he gained revenge as Australia trounced England 5-0 in the Ashes series of 2006-07. In the second Test, at Adelaide, he took four for 49.
After the Ashes had been regained in the third match, Warne announced that he would be retiring from Test cricket at the end of the series. The fourth match proved a triumphant farewell to his native Melbourne as he bundled out England in their first innings with figures of five for 39.
In all Warne played in 301 first-class matches between 1991 and 2007, taking 1,319 wickets at an average of 26.11. He also presented a rare example of a leg-spinner whose accuracy made him an asset in one-day cricket; in 193 ODIs his 293 wickets came at a cost of 25.73 per wicket.
He did well with the bat too, adopting the attitude: "I just want to hit the ball as far, as hard and as often as I can." In all he scored 3,154 runs in Tests at an average of 17.32. Altogether in first-class cricket he reached a total of 6,919 runs. In May 2005 he at last reached three figures (and in only 72 balls) when he plundered the Kent attack for 107. A few weeks later he repeated the act, when he hit 101 off Middlesex in 79 balls.
In 2008 he signed with the Rajasthan Royals, leading them to victory in the Indian Premier League. In 2011-12 he turned out for Melbourne Stars in the Big Bash League.
Loading
In retirement he did well as a jokey but perceptive commentator, and the Shane Warne Foundation raised money for ill and underprivileged children.
At the end of 2010 he began a relationship with the actress Liz Hurley. They soon announced their engagement, only to call it off in 2013.
Warne married Simone Callahan (divorced 2005) in 1995. They had a son and two daughters.
Shane Warne, born September 13 1969, died March 4 2022
London Daily Telegraph
The Morning Edition newsletter is our guide to the day's most important and interesting stories, analysis and insights. Sign up here.