Malcolm Conn joined the Herald earlier this year as chief cricket writer. In this subscriber exclusive Q&A, he talks about how he has settled in at the masthead, the upheaval leading into this Ashes series, and his predictions for the men's and women's game.
Welcome, Malcolm! What attracted you to the Herald masthead? How have you settled in?
The Herald has a great history and tradition of not only quality journalism but quality sports writing. I am delighted to be given the opportunity as its chief cricket writer and feel proud to be part of such a highly regarded publication. I have spent most of my career working in sport so I know most of the sports staff already.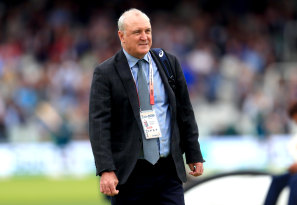 Tell us a little bit about what you've done before joining the Herald? What are you most proud of in your career?
Born in southern NSW, I began my career on a country newspaper in Victoria and moved to The Age in the mid '80s as a VFL/AFL writer. However, I have spent most of my career as a chief cricket writer for various publications. In 2014, I accepted a joint role as a senior communications manager with Cricket NSW and Cricket Australia before leaving this year to join the Herald. A career highlight was winning a Walkley Award in 1999 for uncovering the Shane Warne-Mark Waugh bookie scandal.
As you mentioned, you have worked for Cricket NSW/Cricket Australia. What motivated you to return to journalism?
I greatly appreciated my time in cricket and the many good people I worked with but when the opportunity arose to be chief cricket writer of the Herald it was simply too good to ignore. I'm enjoying being able to express myself freely about a sport that is part of the fabric of our society and has been a passion for most of my life.
Where does your passion for cricket come from? What is your favourite cricket memory?
I was hooked from childhood growing up in an era when Australia dominated the world with Dennis Lillee, Jeff Thomson, the Chappell brothers and Rod Marsh. Living in the country, we rarely ventured to Melbourne so it was another world when my father took my brother and I to the MCG on Boxing Day in 1975. Watching Lillee and Thomson dismantle the West Indies in front of a roaring crowd of almost 90,000 is something that has stuck with me for a lifetime.