"I really honestly believe things happen for a reason in people's lives," Day told CNN in 2017.
"When I lost my Dad I had an opportunity of going to a golf academy. If I didn't lose my Dad I wouldn't have had that opportunity. The life insurance money we got from his passing helped me go to the boarding school, the golf academy."
Dening's reaction to her son's emotional PGA Championship win in 2015 was also touching as she had to follow the final round while working in her customer service role at a shipping company in Brisbane.
"I'm at work today," Dening Day told ABC radio in 2015.
"I kept updated through the website, the PGA website, and it takes a long time before it gets updated. It was a little bit anxious to wait for it to get updated.
"And I can see all the Twitter coming through."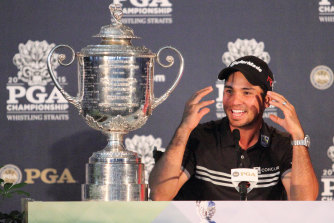 Day feared he could lose his mother in 2017 when her original lung cancer diagnosis gave her little chance of survival but he brought her to the US for special treatment which extended her life until the cancer returned in recent years.
The 12-time PGA Tour tournament winner is expected to take time to mourn and be with his family before returning to golf.
Dening won more hearts around the country when she accepted her son's The Don award in 2015.
Day couldn't attend due to expecting his second child in the US but in a video to the event, he said his mother was his biggest supporter.
"My mother [will] receive the award and I couldn't think of a better person," Day said in the acceptance video seven years ago.
"She's been my biggest supporter and she's sacrificed so much for me, not only over the years but when I was a small child.
"For her to give me the start I needed, the opportunity I needed to hone my skills and get better as player put me on a springboard to get to where I really wanted to be, which was on the PGA Tour and playing against the best players in the world."
News, results and expert analysis from the weekend of sport sent every Monday. Sign up for our Sport newsletter.