Loading
"I might sound naive, but games like that where you actually keep trying to win can make it look a lot worse than what it is, and they can blow out quite easy," Selwood said.
"We can look three weeks before that when we got Melbourne in Geelong, and we're up by 40 points five minutes into the third quarter, and we took the foot off a little bit, and they come steamrolling back.
"It doesn't take much to turn that around, so I don't read too much into that final game. We would've loved to have been playing right off, we would've loved to have been in front that game, we weren't, but we kept trying to win it, and then it can look a lot messier than what it actually is."
One man in particular ripped the heart out of Geelong on that famous night in Perth and that was Melbourne ruckman Max Gawn, who produced one of the all-time great finals performances, kicking four of his five goals in an unforgettable third quarter to emphatically shut the door on the Cats.
Gawn well and truly had Rhys Stanley's measure on that occasion, and while the Geelong ruckman did have an impressive second half of the 2021 season, new recruit Jonathon Ceglar from Hawthorn could provide the added support Stanley needs.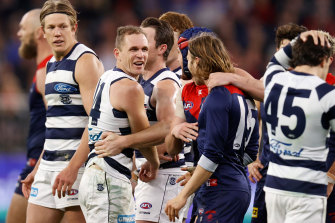 "At different times they'll be battling it out competing [for the same spot], at some stages we'll play both of them," Selwood said.
"We have Esava [Ratugolea] still coming through that's a raw [talent], just needs to play more footy, and he'll be a great ruckman too, we think.
"We've got a young bloke, Toby Conway, who's a bloody good player [who] may even spend some time in the ruck this year, don't be surprised."
The Cats, who are the oldest team in the league for the second year in a row, have finished in the top four 12 of the last 15 years, but Selwood admitted it would be a "challenge" for them to earn another double chance in 2022.
"We understand sides are getting better, they are always coming up, [we] expect that to happen again, you just can't have week off," he said.
On a personal note, heading into his 16th year in the AFL, and 11th as Geelong captain, the Cats' longest-serving skipper was feeling "really good" and "really hungry" and was excited by the prospect of a normal season with fans at every game now that the worst of the pandemic is seemingly in the rear-view mirror.
"You can play it up and try and get through, [but] it's just not as fun rocking up [without crowds]," Selwood said.
"Even fighting traffic, we won't complain about that anymore coming to a ground when it's going to be full. We're excited.
"We had a game against Richmond [on February 26] and even to get the 6000 people back I think they were surprised being in a crowd sitting together and the sound of, 'Ball', and the simple things of footy, we look forward to it all coming back."