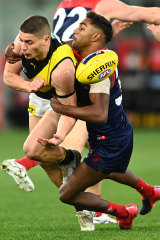 They brought in former North Melbourne veteran Robbie Tarrant as a ready to play replacement for the retired David Astbury and expect to have emerging talent Noah Balta back from injury. Josh Gibcus, a key defender taken at pick nine in last year's draft, has impressed through the pre-season and is expected to play early in the season.
Prestia has managed only nine games in each of the last two years. Fortunately, in 2020 he returned at the right time to play the last five games of the season, including the grand final, but last year he could not get any consistency as he played catch-up on injuries and an abbreviated pre-season.
The Tigers changed their approach with Prestia, whom previously the club had assumed because of his natural muscularity that if he did too much gym work the added muscle would impair his running. In fact, they have found the opposite to be true and additional strength work has vastly improved his running.
"His nickname isn't Meatball for nothing, he is a ball of muscle, so we tended to avoid doing too much strength work with him because he has such natural strength, but we found with him for his Achilles he needs higher doses of strength work, specific work for the Achilles and for his hamstrings that puts a lot of load into him," elite performance manager Peter Burge said.
"When he started back in January it was really obvious his high-speed running and repeat running was at such a high level. He was running better than I have seen him in years. His running is at a very, very high level not just for him but for any AFL midfielder."
Prestia said missing the finals meant a longer break, which has helped him get his body right.
"I expect to play every game and do every session."

Dion Prestia
"Not making finals has given everyone a chance to re-set and to get things right again," he said.
"I did three solid weeks of strength work at the end of last season before the off-season, and it set me up. I was able to start running in September, I remember teams were still playing, but I was able to get back out running again. In 2021 [pre-season] it was about December before I started running.
"I feel a lot better than even in 2017 and '18. I feel as good as I have felt. I don't follow the stats on it too much but my GPS numbers I don't remember getting numbers like this and being able to back up session after session.
"I am definitely not going to go into the season thinking I will rest some games. I expect to play every game and do every session. I know some people say having a session off here and there is good, but I am the opposite, I need to keep ticking over."