Australia vs Pakistan first Test LIVE updates: Scene set for historic Rawalpindi first Test
We're sorry, this feature is currently unavailable. We're working to restore it. Please try again later.
This is looking ominous for the Australians. Pakistan have the 100 up, without loss as well.
This is a very strong opening stand for the hosts. The opener's berth shaped as a weakness for Pakistan with Abid Ali out of the series due to a heart condition. Imam-ul-Haq had made just the three half-centuries from 21 innings before today. He now has a golden opportunity to break through for his maiden Test century.
The visitors do not look like getting a wicket. There's nothing in the track or in the air. They'll be relying on the batter to make a mistake.
Aussies crying out for lunch
Remember, this first session is going for two and a half hours, with a one-hour lunch break, for Friday prayers.
The Australians could do with an early break. It has not been a good start to the series. After England's pathetic performance with the bat, this must be an unfamiliar feeling for Pat Cummins' men going so long without taking a wicket.
Imam ul Haq's performance today does not say much for Australia.
The opener has reached just his fourth 50 from 22 Test innings. Before today, he averaged just 25.52.
At one point he was on seven from 41 balls, but he has flourished in the last hour, reaching his half-century off just 81 deliveries.
Imam would not have been playing this series if not for a serious heart condition for Abid Ali, who was one of the world's leading run-scorers in Test cricket last year.
'Take him back over his head': Katich on Lyon
Simon Katich has been impressed by the way Pakistan's openers have batted to Nathan Lyon.
"I think the other thing that stood out just watching the way they've gone about playing Nathan Lyon," Katich said on the broadcast.
"A lot of batsmen tend to get caught on the crease to Nathan Lyon. If you let him dictate terms he will get all over you. Both of them have been prepared to take him back over his head."
'Hard work for the pacers': Waqar
Pakistan great Waqar Younis is expecting a difficult few days for the fast bowlers.
Australia's decision to pick just the one frontline spinner is already up for discussion. The quicks have not been able to break through in the first 27 overs. In fact, they've hardly drawn a false shot from the Pakistan openers.
"He's not going to get much of this surface now," Waqar said of Hazlewood during the first session.
"Now the ball is in a situation where it's not reversing and not [offering] conventional swing. It's going to be hard work for the pacers."
Hazlewood back into the attack
The Travis Head experiment lasts three overs. After giving up eight runs in his last over, he's out of the attack, and Josh Hazlewood is back in.
It's no criticism of Head – he's just a part-time spinner who should not be bowling so early in a Test match, if at all.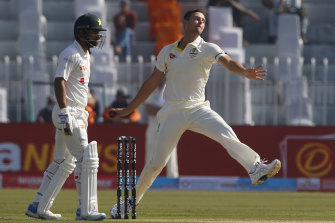 Not quite, it's his second over but the fact we're seeing Travis Head is a concession of sorts by Australia they've picked the wrong attack.
Travis Head had bowled just 22 overs in his 23 Tests before today. He bowled just one over in the Ashes, and before that the last time we saw him roll the arm over with his part-time off-spin was for two overs in the New Year's Test of 2020 against New Zealand. Yes, that's before the pandemic.
Long day beckons for Lyon
He's already bowled six of the first 18 overs, how many more for Nathan Lyon today?
Working off a 90-over day (there could be more given the conditions), I reckon he is looking at a minimum of 30 overs. That's 30 out of 45. The GOAT will be looking forward to hitting the hay tonight.
Brettig: Advantage Pakistan
By

Daniel Brettig
At last, a boundary for Imam
It's taken 42 balls but opener Imam ul Haq has finally found the rope. It was not a convincing shot at all, driving Pat Cummins in the air through the gully region. Cummins won't mind that. You keep playing that stroke and it's only a matter of time before you give a chance.