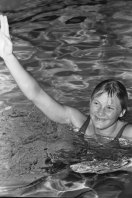 With encouragement from, the official announcer, the crowd started to clap and cheer as she swam the last vital laps.
She was ahead of the schedule at 500 metres, a fraction behind at 600 but was ahead again at the 700 metres mark, with two laps to go.
The crowd became more vocal when it was certain she would break the record and Shane responded by putting everything into those final two laps and streaked to her second world record in a week.
The record came after a pretty normal day in the life of Shane Gould. She swum four miles at training yesterday morning, then went to school.
In the afternoon she underwent the test for her bronze cross lifesaving medallion and admitted later that the most difficult part was the swim. "I had to swim 200 metres sidestroke and it was hard," she smilingly said.
The phenomenal aspect of Shane's time last night was that it was only 0.7 seconds outside the men's world record, set by John Bennett in 1967.
Shane has one more record in her sights — to break the world time for 1500 metres at Birrong Pool on Sunday week.
"That's the last 1500 metres I want to swim," she said.
INCENTIVE
"It takes too much out of me but I would like to get this record."
If she does, her name will be in the record book for every distance from 100 metres to 1500 metres.
Shane said one of the reasons she wanted to do well last night was that former tennis star Lew Hoad was at the pool to see her swim.
"Lew and his wife, Jenny, have been friends of the family for a long time," she said. "I suppose I tried to pull out that little bit extra because they were watching."
The men's 800 metres was an exciting struggle, although there was no world record.
In something of an upset, Graham White beat Brad Cooper with national champion Graham Windeatt third.
White's time, 8m 29s, was only 0.4s outside Windeatt's world record.
The three swimmers swam stroke for stroke through the 16 laps, and it was only in the last 25 metres that White gained a slight advantage. His time was only 0.4 seconds ahead of Copper and Windeatt.
Loading
The three swimmers were actually only a couple of strokes outside the world record.
True to her word, nine days later, in front of a crowd of 3,000 at Birrong Pool, Shane Gould broke the world 1500 metres record by a massive 18.6 seconds to complete a unique swimming grand slam. At the time it was described as her greatest swim.