Adelaide forward Taylor Walker has narrowly escaped a sanction for questioning the match review officer's decision to fine Trent Cotchin for kicking when he claimed he would have been likely to receive a greater penalty for the same action.
Walker was speaking on his regular spot on breakfast radio on Triple M with hosts Mark Ricciuto, a Crows' board member, and Chris Dittmar, when they began discussing the round five incident that led to Cotchin being charged for kicking Walker.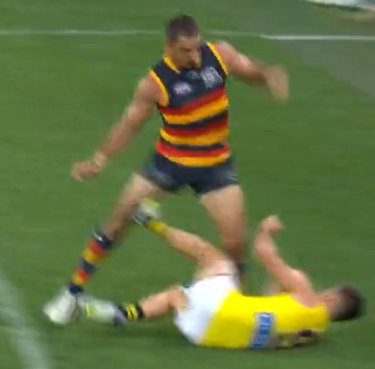 He described Cotchin's act as deliberate before going on to say: "I tell you what, if the shoe was on the other foot I would have been missing the next month."
The AFL took a dim view of his comments which, although delivered in a light-hearted fashion, with the AFL contacting Adelaide CEO Tim Silvers to ensure the club understood Walker's remark fell just short of a sanction.
The league provided The Age with a statement indicating the action taken:
"The AFL has spoken to Adelaide today and reminded the club and the player of their obligations in relation to the match review process."
Loading
Cotchin had told Channel 7 he pushed his leg out as he fell on his back when the ball went out of bounds to protect himself although the AFL match review officer found his action intentional. He was fined as it was categorised as low-impact and body contact, which only incurs a financial sanction.
Walker has been in fine form in his two matches back after being suspended for six games at the end of last year as part of a raft of penalties for racially vilifying a player at a SANFL match in July 2021. He went through a conciliation process and apologised for his remark.