"He was 17 or 18 and went and fought," Ross said. "I could not see myself doing anything like that, so I'm full of admiration for him.
"It is something that is pretty special, and since finding out and delving into the relationship, personally…it's pretty cool, it's pretty special."
Although just his 35th match, it will be Ross' third Anzac Eve contest as he aims to cement a spot in the midfield of a team that has won three of the previous five flags.
"He returned from Gallipoli, fought in France, was told he would not live past 30 [years old] from the trauma and shrapnel injuries, and then went on to live until he was 94."

Richmond's Jack Ross on his great-grandfather Whitley Carter
Ross was within an inch of being selected in the 2019 team that thrashed the Giants. He was held out of the VFL grand final as the likely replacement for the injured Jack Graham, but the Tigers sprung a surprise when they named Marlion Pickett to make his debut on the biggest stage of them all.
It was an unlucky break for Ross in his first season, as it meant he played in neither the VFL nor AFL premierships, and he admits the decision hurt at the time.
Now he looks back on it as an early opportunity to learn about the realities of elite sport, and he has stuck with Richmond because he loves the place.
"It's a pretty special club," Ross said. "When I was drafted (pick 43 in the 2018 national draft) they had a great foundation in terms of culture and a system that works. It was just a matter of me adapting to it."
Ross did so well that he was heroic on debut early in 2019 – before Pickett was even on their list – when brought into a depleted Tigers team that was missing Dustin Martin. He played seven games, including the final round, but he just couldn't crack a spot in the grand final.
"I was in my first year and I had no expectations to play in a grand final, and having Marlion's story and the character he is, he deserved it just as much as the next guy," Ross said.
"I did learn a lot from it. It did take a while to put it to the side, and kind of get over myself in a way, but I feel like I did learn a lot from it – just in terms of the patience and resilience that you need in the industry.
"It will stand me in good stead for hopefully a longer career at Richmond."
Ross has fought back from adversity before, missing out on selection in the Vic Metro Under-18 team after captaining their Under-16 side, and having to fight his way through the state combine before being drafted.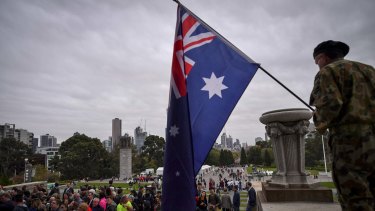 "I did not have the picture perfect journey to the draft and landing at a club," Ross admitted.
He doesn't lack motivation, and much of his immediate future will depend on his performance this season as he adapts to playing on the wing – an education that will not only make him fitter but enable him to get to stoppage after stoppage. A natural inside ball-winner, he will get his chance in that role at some point.
Right now he has his sights set on Sunday evening against the reigning premiers, where he will honour the spirit that flowed through his great-grandfather Whitley Carter and grandfather Don Ross, who died recently.
"The build up is so big, and it is a game everyone wants to play in. We are fortunate to play on Anzac Eve," Ross said.