But three won't go into two, despite all three being highly rated by those at the Waratahs.
Harrison signed a three-year extension at the end of 2020, while Donaldson is also on the Waratahs' books until 2023.
Edmed is off contract at the end of this season, and sources familiar with the situation say three other Super Rugby franchises all want his services.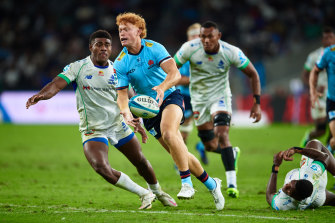 If Batger was pulling the strings at the Waratahs, he'd make all three a priority in looking towards the future.
"Darren Coleman is a better coach than me, but if I was the coach I'd be trying to keep all three," Batger said. "You've seen they've needed all three. The first thing I would be doing is trying to keep all three, and then if you can't do that I reckon one of the players is going to back themselves to go elsewhere."
Batger is adamant the best grounding for a player is through the Shute Shield.
Loading
"We believe that's the best pathway, but it's not the be-all-and-end-all because others have proven that wrong," Batger said. "I think it does help if players can play against men … do that 20 to 30 times and it has to be a better grounding heading into Super Rugby. You don't want to be learning at Super Rugby [level], which I think we've seen before. It doesn't necessarily work out too well.
"Tane has put in a lot of hard work and he's getting the rewards now. In club-rugby land, we're especially proud because he did do that grounding there. He played in some big games. I think that's the best preparation these guys can have. It's a really good battle between the three 10s there. They've all had a crack, and I'm quite curious to see who comes out on top."
Coleman's Gordon side defeated Batger's Eastwood boys in the 2020 Shute Shield final.
Batger sees similarities in Coleman's new-look Waratahs team, who are performing far better than 2021, when they failed to win a game all season.
Loading
"I just think they're really clinical, and you can see they've got a game plan they're following," Batger said. "Last year it looked like they were playing a bit of hot potato with the football, but nowadays everyone seems to know their job. That's what DC does to a team. It's the same with Gordon. He got them into a really well-oiled machine. The Tahs are a machine at the moment, and within a year or two they'll be a very well-oiled machine."
Watch every match of the Super Rugby Pacific on the Home of Rugby, Stan Sport. This week Super Round hits Melbourne in a competition first with all twelve teams taking part in a three day Rugby-Fest. Matches begin from Friday 5:30pm AEST, Saturday 4:30pm AEST, and Sunday 1:30pm AEST, all streaming ad-free, live and on demand only on Stan Sport.