Sam Weatherley calls his return to Sydney a working holiday and a fact-finding mission for next spring but is hopeful Maria Farina can finally find her way back to the winner's circle at Randwick on Saturday.
The former star New Zealand apprentice spent 18 months in Sydney three years ago before returning to New Zealand and has come back with a couple of horses for his father Darryn as a sighter for a spring return to chase the Sydney riches. He hasn't hunted rides while in Sydney and is content to look after his family horses and try to win a race with them.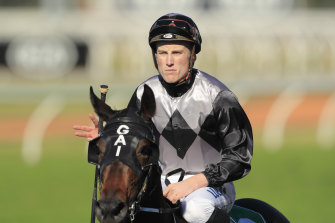 "It is like being an apprentice: we are doing all the work with them in the morning and afternoon, making sure they are ready to go," Weatherley said. "It's good being back at Rosehill. It's like being at home again, but it has been pretty busy.
"The trip is a good chance to find out a few things with Mali Ston, which is a really nice horse. We thought we would give him a look at Sydney before coming back in the spring.
"We think he can measure up, and it's a bit about finding that out, as well as trying to win a couple of races.
"There is a $2 million 1800m race [the Five Diamonds] for Mali Ston later in the year and we are hoping to be back for that."
Maria Farina, a daughter of Contributor, has been sent over to Australia as the travelling companion but has impressed the young rider since arriving.
She has developed a frustrating habit of running up to win and then finding one better back home in New Zealand, but Weatherley has seen a change in her at Rosehill.
"Her work has been good since we got here, and she has more ability than most. She is just a professional placegetter, but this is the best I have seen her," Weatherley said.