By what measures, however, should "greatestness" be defined and thereafter determined? In lifting the Norman Brookes Challenge Cup above his head for a second time, at the ungodly fighting 'n' kebab hour last Monday morning, Nadal in the process shifted ahead of Federer and Djokovic, on that all-time list of men's tennis major championship victories.
Former world No. 4 Greg Rusedski opined earlier this week that ultimately, tennis greatness is to be measured on the numbers; and that Djokovic will probably triumph as superior based on that analysis. For Djokovic seems a much, much younger 34, than does his Spanish rival appear 35 years old.
But what truly defines, and epitomises greatestness? Pure genius? Improbable longevity? Metronomic consistency? Pick any sport you like: when practised at its true zenith, that constitutes a quest for greatness. That endless, dull-lit and unmapped path perhaps leading to it. The heavyweight slugfest in which one must attempt to attain it. And that maddening, fleeting clutching of it.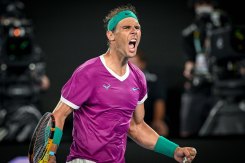 Tiger Woods has won 15 of golf's major championships; his fifth Masters in 2019 will possibly forever remain the most wonderful thing I've seen in sport.
But as much as I hold a candle for Tiger winning at Augusta National for a record-equalling sixth time, he won't. Woods will achieve incalculably more if he ever just stands on the first tee at The Masters as more than a ceremonial starter, such was the catastrophe of his car accident of 12 months ago.
Woods certainly won't equal Nicklaus' record in the majors, and yet Woods is the greatest golfer who has strode a fairway. That reality is such, for myriad reasons. Golf today is a sport incredibly affected by technology, to the point that even the mediocre can be remade as world beaters, on their day.
Nicklaus staved off far lesser rivals who regularly threatened, for reasons including that very few had the technical ability to contend with clubs and balls that were impossible to use, compared to the present-day iterations. Kind of like why Winx can't be construed as great, when never venturing overseas but instead just trouncing Happy Clapper 10 times over.
Loading
The late Ayrton Senna was absolutely fabulous; a proper genius in that truly Shakespearian sense, even if a flawed one. Senna won three Formula 1 world championships. His arch nemesis (and pallbearer) Alain Prost won more; Hamilton and Michael Schumacher each have won seven world titles.
Yet listen to those that know (and those like me, who just think they do), and "Senna" is the common answer to any variation of the question, about who's the greatest driver of all time. Why's that?
Greatness commands a certain esoteric dynamic. It's as much about what's never seen, and that which perhaps can't be understood by the interested bystander. Antigua's favourite son, Vivian Richards, enjoys a Test cricket batting average that doesn't even rank him among the top men's 40 batters in history, yet Wisden selected him as one of the five cricketers of the 20th century. Not for Richards' numbers; but entirely because of what mere numbers can't elucidate.
Greatness differs from iconic. Cathy Freeman is an icon; her gold medal-winning performance inside Sydney's Olympic Stadium in September 2000 is a storied achievement, and rightly so.
But Freeman never achieved greatness; she never broke a world record, and didn't repeat her performance at any subsequent Games.
Greatness, or greatestness even, is measured not through bare statistics but also by an analysis of the indomitability of will, and the ability to conjure the extraordinary from the thinness of air and the fragility of the moment.
Late last Sunday evening Nadal stood on Rod Laver Arena and wondered. By this point Nadal was two sets down, and also facing the grim reality of defending three break points on his third service game of the third set.
At that fork in the road, Nadal rightfully should've ended up vanquished in the Australian Open men's final. He should've been cooked. The aggregation of no tennis, a serious foot injury and a recent COVID-19 infection should've exceeded what was needed to quell Nadal's prospects of victory in a major championship final, for a record 21st time.
And yet the precise opposite was the outcome, after a most ridiculously improbable tennis match. An exemplification of Nadal's grit, and the indomitableness of will. Surely no performance could ever outshine Nadal's own triumph over Roger Federer, 9-7 in the fifth set in the wasting light at SW19 in 2008. Yet 14 years later …
It's indeed quite probable that in the fullness of time, Djokovic will reap more trophies than anyone. But that achievement, if an actuality, won't in and of itself render Djokovic the greatest. Not by any measure.